There was once a time when the transition from brick and mortar stores to e-stores was awe-inspiring. Since then, the businesses have become quite familiar and comfortable with the concept of digital advertising. In fact, spending on digital advertising by the U.S. is expected to increase to more than $110 billion by the year 2020.
Digital marketing comprises of a wide variety of channels by which business advertise and promote their products/services. It includes content marketing, search engine marketing, email marketing, mobile marketing and not to miss our topic of focus today, social media marketing. The Content Marketing Institute reported that social media marketing or advertising is the favorite mode of communication of 90 percent of B2C businesses who are involved in digital advertising.
Why do businesses love advertising on social media? Because it is expected to bring in instant results, that's why. People agree that more than 90 percent of their online buying decisions are influenced by what they see on social media. Since the influence factor, that is, the probability of getting influenced by social peers, associated with social media greatly impacts customers' buying decisions, there is a good chance that you will get immediate conversions thanks to your advertisement if it has received positive reviews.
Facebook Dominating the World of Social Media
As reported by Smart insights, Facebook holds more than 1500 million users who actively use Facebook. Furthermore, Facebook enjoys about 18 percent of market share as it is the most wanted social media platform, a statistic which is also depicted in the figure below:
There are a number of reasons why people find Facebook to be the most engaging of all social media platforms. Here are a few:
It is easy to use:

Facebook is pretty straightforward and easy to use. Its features are extremely user-friendly, making it one of the most used and preferred social media platform across the world, and across different age groups.
It keeps getting updated:

Facebook comes up with updates in order to maintain its fresh look and crisp performance. With new features being added every now and then, Facebook users are satisfied with being entertained by the Facebook creators.
It is about more than Socializing:

Facebook provides information and updates about what is going on around the world. It provides updates on trending news and therefore, you get to do more than following your friends and get connected with them; you get to learn about what's going on around the world.
It provides a variety of things to do:

You can make a call, comment, share content, play games, create and join an event, go live, etc. etc. etc. There is just so much to do on Facebook; no wonder it has the highest engagement rate!
It lets you reconnect and rejoice:

With the user database growing each day, you get to find people who were a part of your childhood. Even if they have changed faces and have changed their location, all you need to do is type in their name and the Facebook search engine will find them from its database if they are a user.
It makes sharing easy:

It is extremely easy to share content on Facebook. All you need to do is click and share.
It is safe and clean:

Due to its strong policies, Facebook does not let any adult content float around. Therefore, you need not worry about implementing strict parental guidance or about coming across anything displeasing on Facebook.
Why is Facebook Advertising a Good Strategy?
Apart from the fact that it is clearly popular, here are a few reasons why you should consider advertising on Facebook:
You can tap a wide range of customers:

From people living near your business place to those across the ocean, you can tap the entire world and get your promotional message across on a global level. The Facebook community not only holds people from different locations but also people from different age groups and cultural and professional backgrounds.
You can target better:

Facebook offers multiple options for targeting the audience. You will discover these tools when you learn

how to create an ad on Facebook

. You can use these tools to better target your advertisement and reach your audience effectively, without any effort going to waste. You can target based on age, location, likes, interests, language, behaviors, content preferences, etc.
You can save cost & get better value for money: As compared to traditional advertising, advertising on Facebook costs pretty less. Even in comparison to other digital advertising platforms, Facebook charges you less and in exchange, lets you communicate with the entire Facebook community, which ultimately results in you getting a good value out of the money you spend on Facebook advertising.
You can repeat your success:

Let's say you found an audience that immediately converted against your advertisements. Facebook allows you to find an audience similar to the one that converted. This means you can keep multiplying your conversions through Facebook.
Getting Down to Business – Learn How to Create Facebook Ads
Learning how to use Facebook ads has become essential for reaching and converting your audience with an online marketing campaign. As you begin learning how to make a Facebook ad, the first thing you need to focus on is learning the features of the Facebook Ad Manager. The ad manager is your guide that will teach you how to create an ad on Facebook.
Creating the Facebook Ad Copy
When you search how to create Facebook ads that work successfully, you will always find quality content to be a top contender. The content or your ad copy is a huge make or break factor in your Facebook ad campaign. Remember, you have a limited space: you have 90 characters for the main text, 25 for a catchy headline and 90 again for the link description. Use this limited space wisely. Here is the interface you will use for creating the copy:
In order to ensure that you have a perfect ad copy, it is best that you sit down with a professional and work out the details with them. Your ad copy is what the rest of your ad will be designed around. Your ad copy will speak to your audience and it is the element which will engage the Facebook users. A weak copy fails to connect with the audience whereas a strong copy helps your ad go viral. Therefore, pay a lot of attention towards copy development. Once your ad copy is finalized, you are ready to create your Facebook ad.
Setting a Campaign Objective on Facebook Ad Manager
The screenshot above shows that creating a Facebook ad consists of selecting your campaign objective, working out the ad set and then working on the actual advert. The first thing you need to do is decide the objective of your campaign. Here are the different options you can choose from: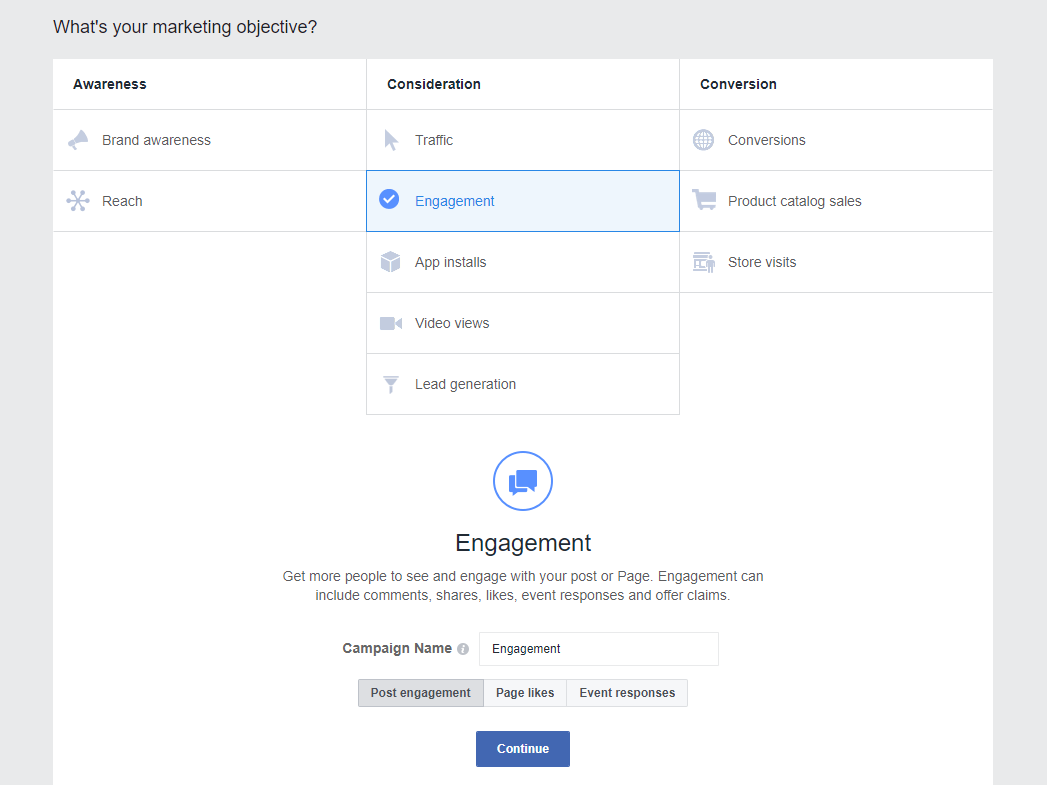 Working on the Advert Set
As you enter the advert set area, the first thing you need to select is the audience – the people you want to target, the people you want to reach with your advertising message and the people you hope will convert from your audience to your customers. As the screenshot shows below, you can create a new audience or even re-target an audience you have previously saved:
For an in-depth and focused targeting, you can set-up detailed targeting, as shown in the screenshot below. The detailed targeting is recommended when you are targeting a niche with your advert:
Detailed targeted helps you to hit the bullseye and reach the exact segment of audience you want to tap. You can also create a custom audience and reach out to the people who have been in touch with you over Facebook, as shown in the screenshot below:
Setting up Facebook Ad Creatives
You must make sure you carefully chose your Facebook ad creatives because it is directly linked with your ad campaign objectives. If you break this link, you reduce the chances of running a successful Facebook ad campaign. As you access Facebook ads, you will get to choose from different ad creatives types, for example, single image, single video, canvas, etc. The screenshot below shows the interface you will come across.
Different creatives give you different options. For example, the single image creative allows you to upload up to 6 image ads and test them. The slideshow option allows you to create a looping ad using up-to 10 images. The canvas has the most room for creative content since you can use both images and videos to create a Facebook ad.
It is advised that you create multiple ads and then test run them. Make sure you create and run variations of an ad, by changing the images or the copy or the color theme, etc. This way you get to test out multiple ads and retain ones that are performing well. As you begin to see that your old ads are declining in performance, you must take an immediate action and create new ads so your audience remains engaged and keeps converting.
Facebook is Flexible
You can schedule your Facebook ads and decide whether you want the campaign to run as soon as you create it or you want to schedule it to run between some specific dates. You can even go into detailed scheduling and select the days of the week or the hours of the day during which the ad should run.
Conclusion
With content being shared 3 times more on social media, why would it not make sense for you to learn how to use Facebook ads? The only advice is, while you learn how to make a Facebook ad, hire a professional to work with you so you can make sure your Facebook ad campaign is a huge success!